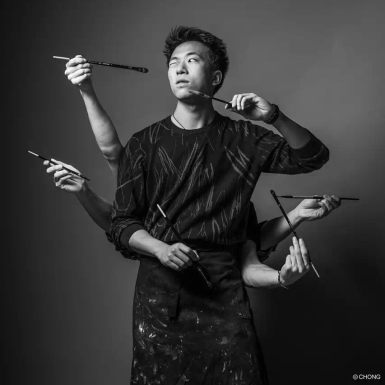 1993 Born in Sichuan, China. Lives and works in Paris. Represented by NICODIM GALLERY.
Statement
My pictures stem from a drop of water. When I paint, using pigments on an unprimed canvas, the diffusion of colors forms shapes and figures. There is a blurring of my subjects' figurative dimension; a mixing of the interior, the exterior, the visible, the invisible, the presence and the absence of things. One may see landscapes, then figures, who soon disappear as well; the viewer's understanding of the picture oscillates, it remains elusive and changing. It may feel as if the picture were the one watching, forcing you to continuously adapt. Water is what causes the pigment to pervade the thickness of the canvas.
Water, again, brings about a wealth of symbolic associations – more or less conscious – halfway between states of awakening and dreaming. I strive for a feeling of light radiating softly from within my subject, then I attempt to keep it in a state of uncertainty through a play on transparency and opacity. I start up using paint I produce myself, mixing mineral pigments with a watercolor binder, then I switch to oil painting for the finishing work on the canvas, thus enhancing some details and building upon the possibilities stemming form the encounter of the two different materials.
In my work with Earth – be it ceramics, porcelain, but also the vitrified and cloudy quality of enamels – water meets fire. I enjoy playing the part of the Alchemist, manipulating earth, beeswax, water, pigments, and spurring action in each material, transmuting them through a process of interaction which confers to them a sense of either memory or its absence: memory of an accumulation of gestures, or absence of any remaining trace of the hand's work through careful erasure, in both cases generating a sense of ambiguity and strangeness. I thus explore dimensions of fragility and sensuality, of transformability and permutability through this sculptural work on matter, engaging specific techniques to weave links between organic and mineral materials, which become the testimony of a process, as exemplified by my work with wax, adapting to each exhibition opportunity through repeating anew the same process, resulting each time in the new freezing of gesture.
My work evolves between figuration and abstraction, it focuses mainly on exploring a universe built with and on symbols, populated by elements related to spirituality, geography, mineralogy, light and sensuality. I try to generate images with a sense of openness to them, pictures that spur the imagination of the viewer into action. By keeping open the possibility of a free reading of my work, sudden, unforeseen experiences become possible: experience of contradictory feelings, of a different kind of perception, like a memory that would have been registered with obvious errors. The object that constitutes the work can thus function as a symbol for undetermined things yet to be explored. In doing so, my work process is akin to a slow meditation, a spell of grounding silence, a way to bear witness to the passing of time.
Exhibitions
Solo exhibition
2022 «corps célestes» Nicodim gallery New york, US
2022 «Intangible» Nicodim gallery Los Angeles, US
Group exhibition
2022 «Peripheries» Newchild gallery Antwerp, Belgium
2022 «Disembodied» Nicodim gallery Bucharest, Romania
2022 «Moonstruck noon» Linseed Projects ShangHai, China
2022 «Petit beurre» Maia Muller gallery Paris, France
2021 Delphian gallery open call London, UK
2020 Fine arts school's gallery Nantes, France
2019 « clou12 » Atelier gallery Nantes, France
2019 « cabinets of curiosities » Natural history museum Nantes, France
2018« Archi-culturel » , School of Architecture gallery Nantes, France
2017« Troposphère » , 6B Saint-Denis Paris, France
Education
2019 – 2021 : Masters degree in Fine Arts, Art School of Nantes (France)
2016 – 2019 : Bachelor degree in Fine Arts, Art School of Nantes (France)
2015 – 2016 : University of Sorbonne, Paris (France) – Intensive French language & culture program
2015 – 2016 : Ateliers Beaux-Arts de la Ville de Paris
Prizes
2021 Delphian opencall winners
2019 Favorite of Prize JUVENARTS
2019 Favorite of Prize LeGrandPlongeon